The Newest, Best TVs and Speakers for More Outdoor Fun
Cashiers, NC residents can enjoy their favorite movies by the pool or relax with their favorite music while grilling with these outdoor A/V devices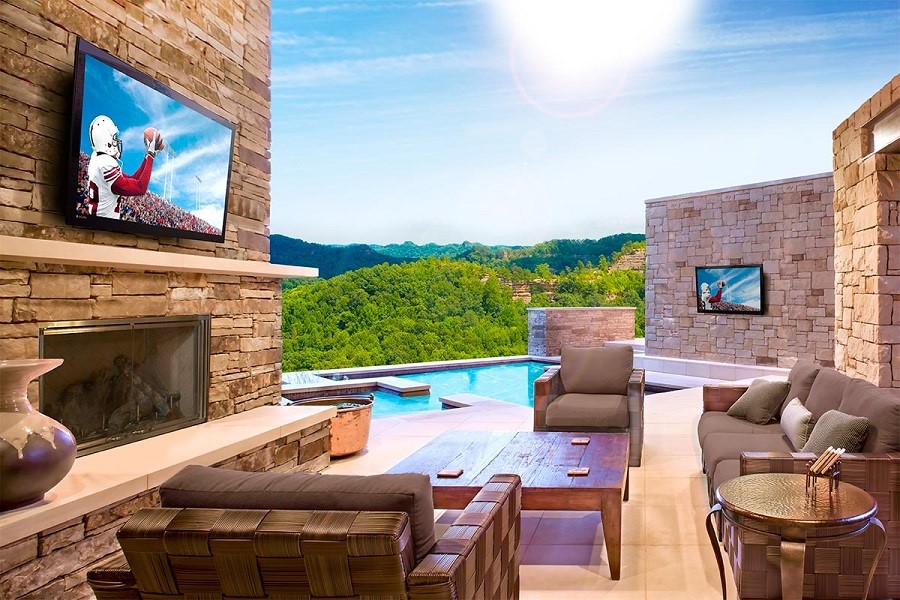 Summer has come to North Carolina, so it's time to break out the grill, clean the pool and prepare your yard for outdoor activities. While you're at it, why not have even more fun this summer with a new outdoor audio and video installation? Balmy summer nights are perfect for watching a movie under the stars, and music makes the perfect complement to an afternoon swim or backyard party.
With the right outdoor audio and video gear, Cashiers, NC residents can transform their yard into a space they'll never want to leave. Here are a few products we recommend for your home.
SEE ALSO: The Best Benefits of Owning an Outdoor Sound System
OUTDOOR TVS
Both leading outdoor TV brands – Seura and SunBrite – have models that would make an ideal addition to your yard.
First, let's look at Seura's Ultra Bright TVs, which are made for placement in full sunlight. One of the most important factors in outdoor TV design is brightness, because glare from the sun can dramatically impact how well you can see the screen. To account for this, Ultra Bright TVs have a brightness rating of 1,000 Nits, a level 55 percent brighter than prior Seura models and 33 percent brighter than similar TVs. Ultra Bright TVs also boast 4K UHD capability and include HDR technology, giving you sharp, lifelike images in all conditions. Even better, Seura's patent-pending Adaptive Picture Technology alters multiple settings throughout the day to maintain ideal brightness and contrast.
Next up is SunBrite's Veranda Series. These TVs are better for shaded areas like covered patios. Still, the Veranda Series was made with outdoor viewing in mind, which is why they're about 50 percent brighter than typical home theater screens. Like the Ultra Bright TVs, you get 4K picture quality with Veranda Series models. Veranda Series models come with a one-year warranty.
Both Seura and SunBrite have hardened their outdoor displays against rain, snow, humidity, dust and other hazards. You also don't have to worry about Seura or SunBrite TVs succumbing to heat; the Veranda Series is rated for temperatures from -24 to 104° F, while Ultra Bright TVs have an operating temperature range from -40 to 140° F.
OUTDOOR SPEAKERS
Whether you're looking to relax by the pool with some calming classical music or want to get the party started with some rock 'n' roll or hip-hop favorites, outdoor audio can enhance many summer activities.

One outdoor audio manufacturer we highly recommend is Origin Acoustics. Their landscape bollard speaker works as an excellent starting point for an outdoor audio system or a worthwhile upgrade. The speaker includes separate 180° and 360° sound dispersion modes so that they can be placed in different configurations around your yard for ideal coverage. The speaker also includes a 6-1/2 inch subwoofer in the base of the enclosure, which can be placed underground for a more pleasing design.

Origin's bollard speakers are available in several different styles and colors, making it easy to find a look that fits your landscape. You can choose a round or a square shell for the enclosure, and you can opt for a bronze, silver or black finish.

With outdoor speakers from Origin Acoustics and an outdoor TV from Seura or SunBrite, you can make your yard an even more pleasant and relaxing space. To find out more about our outdoor audio and video solutions, call us at (864) 271-4276 or fill out our online contact form. You can also click on the chat box below to speak with a customer service associate.

No video selected.