Motorized Shades for Every Home and Decor
Explore the Motorized Shading Options from Lutron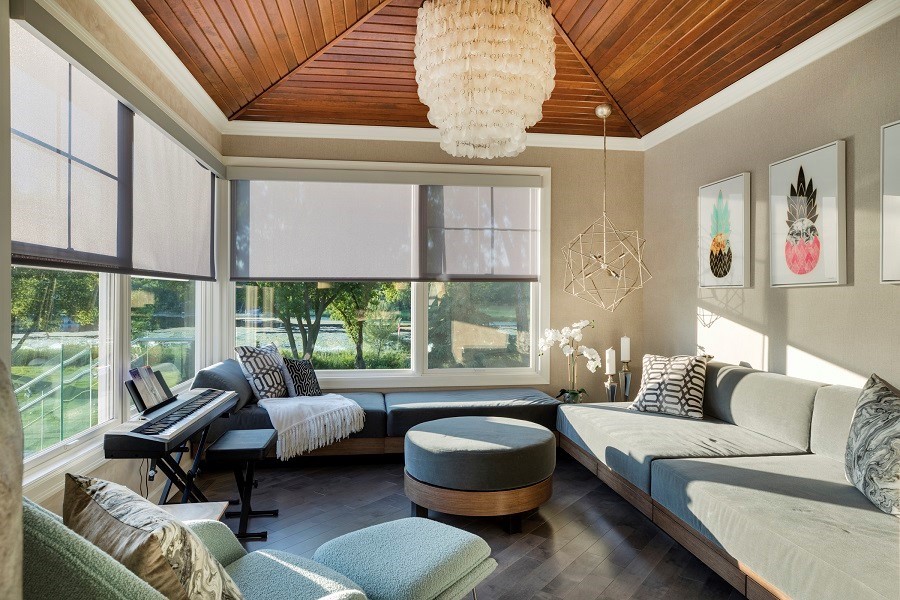 Motorized shades are an incredibly convenient smart home solution. You might think of them as a luxury, but when you discover how they play with other intelligent solutions in your home, you see that it goes well beyond a powered convenience.
One of the great advantages of motorized shades is how they make it easy to manage and control light in your South Carolina home. It should come as no surprise that some of the best motorized shading solutions come from Lutron, a company whose entire focus is on the intelligent management and control of lighting for both residential and commercial applications.
In this blog, we'll explore some of Lutron's motorized shade solutions, and why they're an excellent fit for your Greenville home.
SEE ALSO: Choose Motorized Shades over Manual for your Home
Lutron Serena
Lutron Serena is the company's more affordable solution for smaller homes. Affordability does not imply a lack of options. Lutron offers insulating honeycomb styles (ideal for holding in winter heat and summer air conditioning) as well as room darkening fabrics perfect for a bedroom or media room. Roller style shades abound with sheer, translucent, and blackout fabrics available. The company even offers an IOS app for Apple devices that lets you see and visualize the many available style choices.
Lutron Serena is a wireless solution with powerful, fast accelerating, and long-lasting electric motors and batteries. The wireless capability makes it easy to retrofit the shades in almost any home. Lutron Serena can be controlled from both handheld and wall-mounted remote controls, as well as from a smartphone app. The Lutron Smart Bridge hub is a device that connects the shades to the app and opens up your powered shades to a world of automation options, including voice control with Amazon Alexa, Google Home, and other smart home control systems.
Lutron Sivoia QS
The Sivoia QS solution is Lutron's high-end solution for powered shades and window treatments. Aside from the styles available with Serena, it adds motorized solutions for traditional drapery tracks, Roman shades, and wood blinds. The Sivoia system also controls Lutron's Kirbe' vertical drapery system, where the fabric is pulled up vertically rather than horizontally, leaving a clean look, especially for windows with views. Sivoia also includes innovative tensioned shades on skylights and angled windows, allowing you to control the light effectively no matter where the window is positioned.
The Sivoia line offers both wired and wireless solutions. Some heavier drapes may need to be wired, but the ability to have both wired and wireless window treatments in the same system gives you the flexibility to motorize all your shades in the home. The Sivoia system is also fully compatible with high-end Lutron lighting control systems like RadioRA 2 and Homeworks. Control can be executed through stylish Lutron seeTouch keypads as well as the smartphone app and popular voice control assistants.
Want to learn more about Lutron's motorized shade and window treatment solutions for your Greenville home? Give us a call, fill out our online contact form, or click the chatbox below to schedule a no-obligation consultation with our team. We'd love to hear from you!